Fresh ideas make homeschool fun and keep things interesting.  People have been asking me if I found anything new when I was at the Great Homeschool Convention a few weeks ago.  I sure did!  Since so many people are asking, I thought it would be fun to share!
This blog uses affiliate links.
These 10 Ideas Make Homeschool Fun!
When I shop at a Homeschool Convention I get all tempted to buy everything in sight.  And if the children are with me it's even worse, because they want to buy everything in sight, too!  So I build my wishlist by snapping pictures of the things I like then I can sit somewhere quiet, review what caught my eye and narrow down my choices.  Here are 10 items our family found that look amazing!  We either purchased them or put them on our wishlist for later!  With one exception (some missionary books) none of the vendors knew I would be featuring them on my blog.  (In other words, this is my personal shopping list, not a sponsored post).  There is no particular reasoning behind the order in my list, other than our family's very favorites are at the end.  So if you're a skim reader, be sure to scroll all the way to the bottom of this post!
Nutrition 101:  Choose Life
This health curriculum was the very first thing that caught my eye at the convention and it's something that I did end up purchasing.  Nutrition 101: Choose Life! is a 450-page natural health curriculum that teaches anatomy along with healthy living habits and good eating choices.  I have always believed that if people understood the way their body works and the actual effects of bad habits, they would be less inclined to be harsh to their bodies.  This curriculum lays an excellent and detailed foundation.  The best part is that it can be studied with multiple age groups at once.  After the end of each chapter there are several activities ranked according to age level.   Younger children can complete age-appropriate activities while their older high school siblings are challenged with different activities.
The third edition of Nutrition 101:  Choose Life! has just been released.  As far as I can tell, although they have different covers, the content is almost identical.
Nutrition 101: Choose Life (3rd Edition)
Nutrition 101: Choose Life (2nd Edition)
Exploration Education
Unfortunately, I didn't get a good picture, but the boys in our family… all the boys… including the big grown-up one that I'm married to spent a lot of time an exhibit called Exploration Education.  It's an all materials included science curriculum of things that go "whiz" and "whee" and "pop."  One example my boys were telling me about was a lesson on electricity where you actually build a little model house that has wires to demonstrate parallel and series circuits.  (I'll be honest… I just typed that, but I don't actually know what it means!  I'm just telling you what my husband and kids said.)  😉  They also told me about a little fan that you can build that worked on solar panels.  Placing your hands between the fan and the light source would stop the fan, which the children really enjoyed.  Although it sounds complicated, the projects were simple to build that even a parent like me (without a full understanding of the science being taught) could supervise this.  There are also online support materials to help the parents teach the program.  This is something that definitely went on our "wish list" for the future.
Practical Proverbs
Here is a Bible Study that caught my eye!  We have been studying Proverbs People as a family for many years.  It's a great resource but we've been through it several times.  Our older children are ready for something more advanced.  I haven't studied this one yet, but it looked to be thorough and challenging.  Practical Proverbs is definitely on our wish-list for the future!
Classical Conversations
Classical Conversations is a program I've heard about many times and never thought of it as a viable option for our family.  Basically, it's a program where you go to co-op classes twice a week.  There is a significant tuition expense per child and attending those classes is just not a practical solution for our family.  I wouldn't have even stopped to look at this except one of their reps was quick to approach me and I didn't want to be rude and keep walking.  I'm really glad she stopped me!
The Foundations Books is exactly what it sounds like:  A good foundation to a complete education.  Each week there is a little bit from 7 different subjects (Bible, English, History, Latin, Math, Geography & Science) to memorize.  This is simply a memorization program.  It does not focus on understanding what is being memorized, but rather suggests the children memorize first and come to understand the content later. Personally, I don't agree with having children memorize something they don't understand.  Now that my children are older they do understand a lot of the content being covered, so it's a good fit for us now.  I purchased this book just to use it at home to enhance what we are already doing.  Attending Classical Conversation classes twice a week still isn't a good fit for our family schedule at this time, but the content of the books is thorough and impressive.
Missionary Stories from Bible Visuals International
I really enjoyed meeting Tom  Luttmann and his son from Bible Visuals International.  This is a great family-run company!  They have several books which are visual story books where children can read the text of classic hymns which I thought were great!  Tom offered me a couple of free samples of their missionary storybooks to read and tell you about.  They are beautiful!  They're well-researched and accurate and the illustrations are lovely.  We've only had these books for a couple of weeks and my children have been reading them over and over and over again…
Here are the books in the Bible Visuals Series.  My kids want to read all of them!  They are intermediate level reading books with a lot of good information and beautiful illustrations.
Depths of Grace: The Life of John Newton
The Pilgrim's Progress
The Refuge: A Story of Martin Luther
Neither Death Nor Life: The Love of Jim and Elisabeth Elliot
Doctor in the Pygmy Forest: The Ministry of Doctor Becker
Whiter Than Snow (Adapted from Treasures of the Snow)
Doming The Popsicle Boy
God Provides: The Life of George Mueller
John & Betty Stam: Missionary Martyrs to China
Talk Box Mom
I really enjoyed meeting Adelaide from TalkBox.Mom!  She has designed a program for teaching kids a 2nd language that is based on the way our children learn their first language:  From hearing their moms say things like, "Good Morning!  I love you."  "Buckle up!  Quit poking your brother."  Some of the phrases her little booklet teaches are so funny!  I pre-ordered the French version but there are several other languages to choose from, too.  You can click over to her site to take the free "Learn A New Language In 20 Minutes" Challenge.  (Obviously, she doesn't promise that you'll be fluent in 20 minutes, but it is fun!)  I can't wait for this to arrive when it is released!
Youth With A Mission
I have been eyeing these books for YEARS and never taken the plunge to purchase them.  They are fairly affordable, but there are a lot of books in this series!  This year, Papa the Farmer came to the convention with me, found these books and came to tell me about them.  (As if I had never heard of them before… HA!)  So I let him think it was his idea and we bought the complete set!  We've been reading them every night and the whole family is enjoying them immensely!  I've written before about how we don't read fiction to our children, but these books are true.  They are incredibly well researched and well written.  We read them at bedtime and it's so hard to know where to stop.  Every night it's "Please read one more chapter!  Please, just one more chapter!"
We purchased the chapter book series.  They also have a picture book series that is on my wishlist for our younger children where the stories of missionaries and important historical or inspirational people are told in rhyme.  Technically, all these books are available for individual purchase, but trust me… you – I mean your kids – are going to want the whole set.  **wink**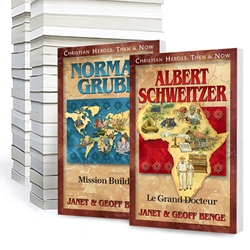 Search: "Christian Heroes Then And Now Complete Set"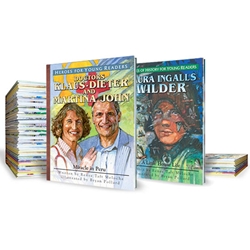 Search: "HEROES FOR YOUNG READERS SERIES 28 books"

Professor Noggins Card Games:
Professor Noggins has a series of educational card games that are so much fun!  We have a few of these games and it's so hard to pick a favorite!  There are science games, nature games, geography games and history games.  One of our favorites is "In the Desert" where you use the cards to build food chains of plants and animals found in the desert.  It's so educational and they are a lot of fun for all ages.  (And I mean that.  I don't have to pretend I'm having fun when I play these with my kids!)  Another great feature is that these cards have trivia questions for younger children and older people, so multiple ages can play together.  Here are just a few sample titles.  (See why I have trouble picking a favorite?):
The 50 States
Ancient Civilizations
Explorers
American Revolution
National Parks
Countries of the World
Wildlife Safari
Wildlife of North America
Birds of North America
Rainforests of the World
Life on the Farm
The Human Body
Drive Thru History
Drive Thru History is one of our site sponsors, and it was really great to get to meet them in person. They presented a workshop that Papa the Farmer and the children went to while I fed the baby.  They came back so excited!  Everyone was talking at once and I could hardly understand what they were saying, but they all agreed that the stories were hilarious!  Dave (the host of the Drive  Thru History Series) is their new favorite person!
American History Episodes 1-12
The Gospels
The Holy Land Series Episodes 1-12
Ancient History Episodes 1-12
Kapla Blocks
Oh, the hours and hours that we spent at the Kapla Blocks booth!  (I think the vendors thought I was trying to become their new best friend!  We spent that much time there!)  The children built amazing creations while I sat and fed the baby.  Kapla blocks are just a simple wooden block.  My son said, "They're better than lego because with lego you have to dig around and find the right piece, and with these, they're all exactly the same!"  It's an exercise in balance, architecture and imagination.  My children built a train (complete with tracks) and several towers that were as tall as I am!  We haven't decided what the occasion will be yet, but we're pretty sure we'll be buying the box of 1,000 blocks as a joint gift for our children soon.  These blocks are one of the best ideas to make homeschooling fun that I have come across!  They will keep the children busy for hours!
New ideas make homeschooling fun and several of these suggestions were new to our family.  I hope your family learns a ton and has hours and hours of fun using some of the suggestions in this post!  I'm always looking for new homeschooling ideas.  Do you have favorite products that make education fun?  Please tell me what they are in the comments!